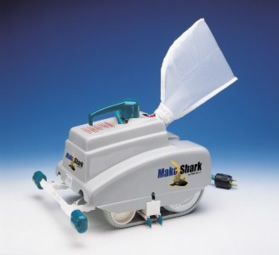 In the Aqua Vac tradition of quality pool cleaners, the AV 1500 is built to clean, designed to last with all the important value features you're looking for. Start with rugged durability. Add the fastest cleaning time...just 90 minutes for a typical 16' x 32' pool. Plus, an unsurpassed reputation for service and customer satisfaction! Perfect for above-ground or in-ground pools, the MAKOSHARK cleans like a pro, automatically!
It's lightweight but big in performance. There's no installation, no waiting, no over the deck or through the wall plumbing.
The MAKOSHARK is only in the pool when your pool needs cleaning; no 8-hour cleaning cycles! Fully self-contained, the AV 1500 by Aqua Vac picks up all debris, large and small and it comes equipped with two filter bags: one for leaves and another that traps sand and fine silt. Make your choice the MAKOSHARK from Aqua Vac. It's the pool cleaner pool professionals choose for their home!
*Disposable bags also available from your local retailer.