Filters and Accessories
Filter Savers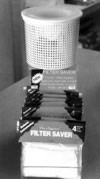 Now you can save yourself from the messy job of cleaning pumps and skimmer baskets with Filter Savers. Not only are they easy to use and disposable, but they trap the fine debris that often escapes back into your pool. Filter Savers fit into any size pump or skimmer basket.

Pool Cleaner Hoist
To assist with the insertion and removal of the Aqua Vac automatic pool cleaner. The rust and stain resistant hoist eases the workload of those using the pool cleaner.

Filter


Spring Clean-up Filters

AquaVac's limited use filter elements for the TigerShark/Excalibur are great for those 'special clean up' jobs when there is a heavy build up of dirt and debris. Just remove your normal everyday filters (P/N 70101) and replace with these temporary filters. Great for pool openings, after a storm or any time your pool has an excessive amount of larger debris. When cleaning is complete return to you normal everyday filters. Order from a dealer near you or contact us for more details.

Tigershark Filter
Replacement filter for the Tiger Shark products.

---

Water & Ice North America
75 Thompson Drive
Cambridge, Ontario, Canada
N1T 2E4
Tel: (888) 822-5956 -- Fax: (866) 745-3415
info@waterandice.ca